Les Bacchantes, la course solidaire à moustache contre le cancer de la prostate. Une course pas sérieuse pourune cause sérieuse ! Samedi 11 novembre 2017 Les Bacchantes Paris et Les Bacchantes Toulouse. Dimanche 12 novembre 2017 Les Bacchantes Reims
Save the date and the place to be in Paris "Les bacchantes 2017" . 6th editionon Saturday, November 11th 2017 ;) Supported by Ronald Tintin, Super Professeur, Marina Nival, mobile application of Super Professeur :mobile.superprofesseur.com and the project Ronning AgainstCancer.in Movember 2017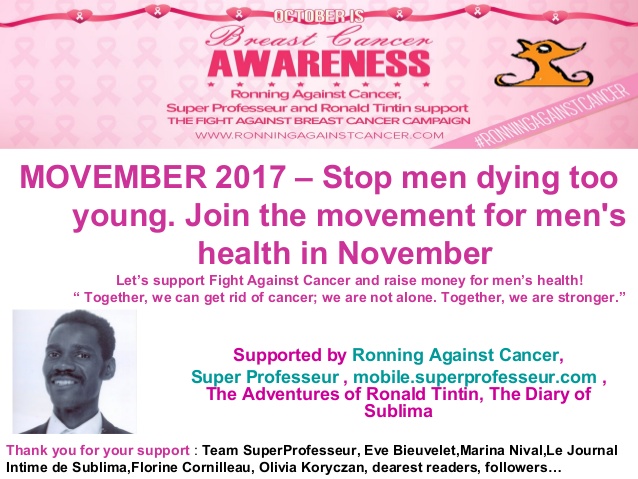 Très chères lectrices et lecteurs ;)
Le samedi 11 novembre 2017,"Les Aventures de Ronald Tintin , Le Journal Intime de Sublima » vont vous faire visiter le bois de Boulogne et Paris, le temps de la course « Les Bacchantes Paris » sous les couleurs les couleurs de l'institut Curie au profit de la lutte contre les maladies de la prostate du le cadre de l'opération Movember 2017 pendant tout le mois de novembre pour la santé masculine.
UNE COURSE PAS SÉRIEUSE …
Afin de collecter des fonds au profit de la recherche contre les maladies de la prostate, l'association les Bacchantes organise chaque mois de Novembre depuis 2012, des courses pas sérieuses pour une cause sérieuse !
Sur un parcours de 8 km ouvert aux filles et aux garçons (à partir de 16 ans), entre amis, collègues ou en famille, vivez une course pas comme les autres.
Outre la convivialité et le don de soi, tous les participants sont soumis à un dress code : le port de la moustache… naturelle, fausse, collée ou dessinée.
…POUR UNE CAUSE SÉRIEUSE
PLUS QU'UNE COURSE, UN ENGAGEMENT SOLIDAIRE
Pour chaque inscription, 10 euros sont reversés à la recherche contre les maladies de la prostate. Depuis 2012, année du premier événement running dédié à cette cause, 132.040 euros ont été reversés à la recherche.
Nous comptons sur vous et vous donnons rendez-vous SAMEDI 11 NOVEMBRE (Toulouse, Paris) et DIMANCHE 13 NOVEMBRE (Reims) pour grossir les rangs des participants, augmenter la collecte, et combattre la tumeur dans la bonne humeur !
Moustachement vôtre,
L'équipe des Bacchantes.
Pour avoir plus d'informations et vous inscrire :
Ronald Tintin, l'Ecrivain et Marathonien, Fondateur du projet Ronning Against Cancerpour soutenir la lutte contre le cancer et collecter de l'argent pour la cause.
" Together, we can get rid of cancer; we are not alone. Together, we are stronger."
MOVEMBER 2017 :

"Change the face of men's health" by the act of cultivating a moustache throughout the month of November 2017 to raise money for charity.
Let's support the Fight Against Prostate Cancer and Testicular Cancer . Supported by the project Ronning Against Cancer, Super Professeur, Marina Nival , mobile.superprofesseur.com and Les Aventures de Ronald Tintin
http://www.superprofesseur.com/321.html
http://www.ronningagainstcancer.xyz/47.html